06apr(apr 6)8:00 am31may(may 31)6:00 pmVampire Cup: AMSA Blood Drive(april 6) 8:00 am - (may 31) 6:00 pm Event Type :CommunityArm:AMSA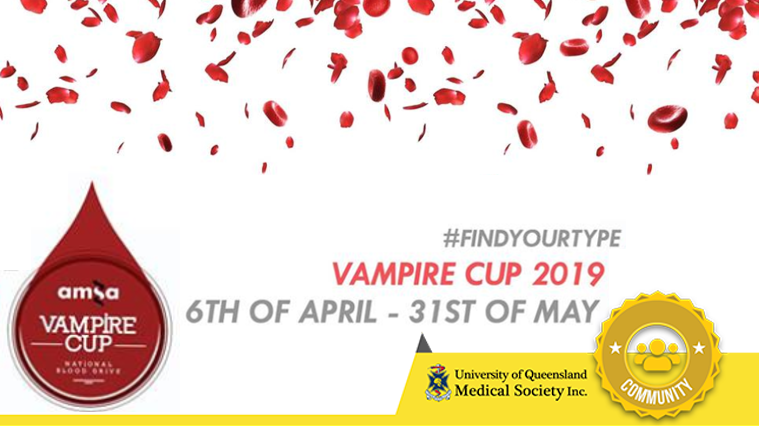 Event Details

‼️❤️VAMPIRE CUP IS BACK FOR 2019!!! ❤️‼️

Vampire Cup is AMSA's annual blood drive competition – and as always, it's any med school's game so we need YOU!  Every Blood Donation from April 6th to May 31st counts towards UQ's tally and helps save lives, so get involved!  If you can't donate yourself, another person can donate on your behalf!

1. How do I donate?
Follow this link: https://www.donateblood.com.au/, sign in or register a new account, then click "Make an Appointment" and follow the steps. Easy! You can donate whole blood every 8 weeks, and plasma every 2. And this year, there's no requirement to donate whole blood before giving plasma, which means you can make up to 4 donations towards our total over the 8 weeks!
Check your eligibility here: https://www.donateblood.com.au/eligibility If you can't donate, don't worry! See the proxy donor information below.

2. How do I support UQ?
Follow this link: https://www.donateblood.com.au/red25 and register as a member of the "University of Queensland Medical Society (UQMS)" Red25 group. Help us show the other universities who's boss!

3. What can I win?
So much!  UQMS has a whole bunch of competitions – all you have to do is upload a pic of yourself donating blood on the Vampire Cup @ UQ fb group! https://www.facebook.com/groups/155978991491367/

i) Selfie prize: post a photo of yourself donating blood in this group and each week, one lucky donor will win a gift voucher. Plus, every selfie and proxy selfie counts as one entry into the draw for our ultimate prize at the end of the 8 weeks, so get bleeding!
ii) First time donor prize: if you are a first time blood or plasma donor, caption your selfie with #firsttimedonor and you'll go in the draw for our first time donor prize.
iii) Bleeding machine prize: everyone who donates 2 or more times over the 8 weeks will get the opportunity to win our Lean Mean Bleeding Machine prize!
iv) Proxy prize: can't donate yourself? Don't worry! Every friend or family member you convince and post here with the hashtag #proxydonor will give you an entry for our ultimate prize, plus the person who gets the most proxy donations will win the proxy prize!
v) Group prize: donate as a group of 4 or more and post your photo up here for the chance to win a prize the whole crew can enjoy.
vi) The rural prize: the RCS with the most donations at the end of the 8 weeks will win the rural prize! Hashtag your pics with #RCS and #[your RCS name] to make sure they get counted.

Join the fb group, hashtag your pic and go in the draw!  Group Link here:  https://www.facebook.com/groups/155978991491367/

4. Why donate?
Aside from all the great prizes we're giving out, every single donation will go on to save the lives of three strangers. Check out Red Cross' fantastically nerdalicious promotional website and video here: https://don8blood.com/42

Happy Bleeding!!
Time

April 6 (Saturday) 8:00 am - May 31 (Friday) 6:00 pm