Hello you 'phine class of 2025
Who / What / Where / When / How - is a Trephine?
Trephine is the yearly journal, and flagship publication of the University of Queensland Medical Society. Now in it's 82nd year, it continues the tradition of compiling memories, articles, photos and banter.
Less important but it's also a surgical instrument with a cylindrical blade.
Trephine is yours, just as much as it's our brain child and we want YOU to contribute to the content! Whether it's writing a thought provoking feature article, making a meme, or completing a survey; we need you to help us make it the best Trephine yet!
If you didn't know, everyone in second year has the opportunity to have a profile written about/by them in the back of Trephine next to all the photos we have been taking of you. These include: likes, dislikes, favourite saying and bio. Below are some examples of profiles from previous editions of Trephine.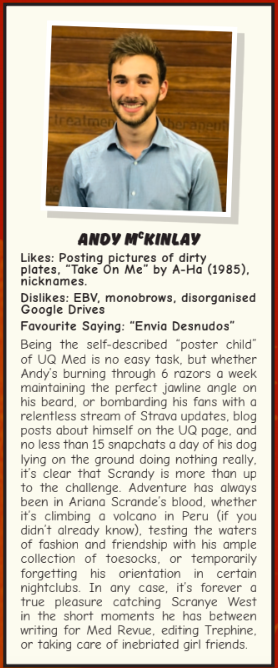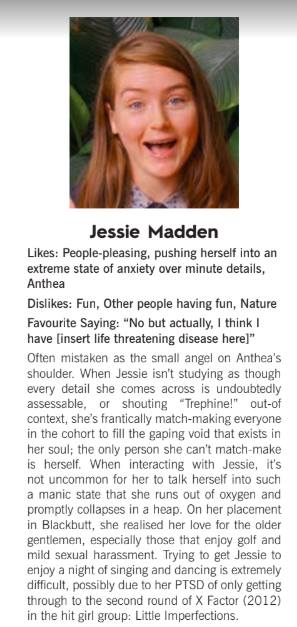 The best way people have found to write their bios is: make a google doc, share it to their closest friends and invite them to "Roast me 🔥." You then edit down the response to 150 words TOTAL choosing the level of roasting that you are comfortable with. You can choose to have a medium rare roast including mostly nice stuff about how you are an incredible person or you may choose to have a well done roast all about your deepest darkest secrets. All of this is up to you as it must be submitted from your UQ EMAIL. In the consent form that you signed with the photos, it stated that any profile that comes from your UQ EMAIL is your consent to go into the book.

The profiles do not have to be clean but they will be edited for profanity at the discretion of the editing team and the UQMS Engagement Officer.
Reminder that once Trephine is published, it is in the universe forever. So be mindful of your content (sex, drugs, rock n roll etc) because no one wants to miss out on a specialty due to banter (or you know, lose their position as Governor of Virginia).
Angel Hayes 
Conrad Breakell
Hita Nayak 
James Gotley 
Kate Sinclair
Maya Buchko
Roshini Murugadass