UQMind Presents: Blue Week
09sepAll Day13Event Type WellnessUQMind Presents: Blue Week(All Day) UQ St Lucia Campus - various locations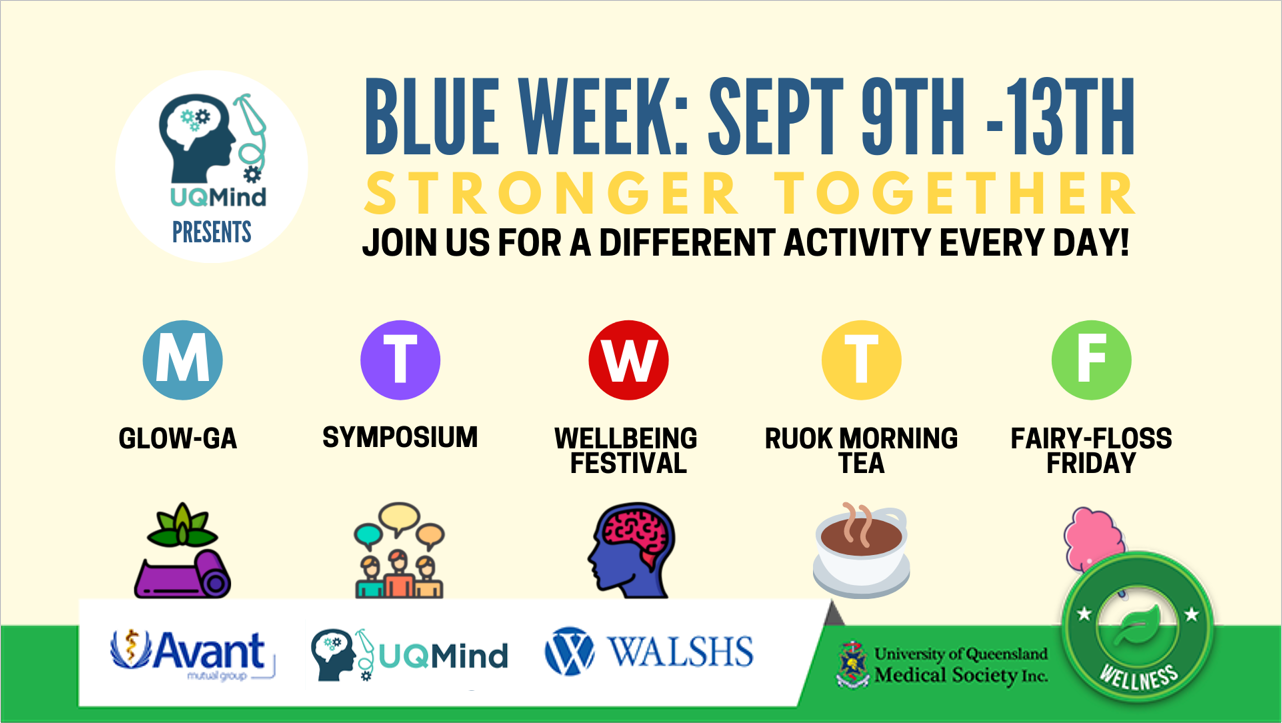 Event Details

Blue Week is back this 9-13th of September!

Every year, UQMind creates 5 different events, one for each weekday, with the purpose of helping you destress from uni work, connect with their peers, and discuss mental health. They are all free and with such a wide variety of activities, there's something for everyone.

Check out this year's 5 exciting events all held at different spots around the UQ St Lucia campus!

Mon 9th Sep: Glow-Ga
Michie Forecourt 5:30pm – 6:15pm
Get glowing and flowing with Glow-in-the-dark yoga. Spend the first 15 minutes adorning yourself with glow bracelets and body paint before doing some yoga under the night sky
Tue 10th Sep: "Connected Community" Symposium
Global Change Institute Atrium 6pm – 8pm
Join our discussion on 'Connected Community'. With a diverse panel of exciting guests ranging from Young Australian of the Year to Professor of public health, you'll come away with a fresh perspective on wellbeing in medicine and beyond!
Wed 11th Sep: Wellbeing festival
Natural Amphitheatre 10am – 2pm
Hug some PUPPIES before enjoying your FREE popcorn and a range of activities put on by GPSN, SWIM, DEA, TROPHIQ & UQPaeds.
Thurs 12th Sep: RU OK Morning Tea
Building 69 Lvl 4
Grab FREE cold brew coffee or hot tea while you check in with your mates on RUOK day!
Fri 13th Sep: Fairy-floss Friday
Come with a FUN shirt (or pants, dress/skirt, socks — the brighter the better)! Then grab your FREE fairy floss, play board games, and take a mental break.
Lastly, keep an eye out for our social media competition later which will have a $100 gift for the winner!
Time

september 9 (Monday) - 13 (Friday)
Location

UQ St Lucia Campus - various locations