UQMind Presents: Blue Month
15sepAll Day17Event Type WellnessUQMind Presents: Blue Month(All Day) UQ St Lucia Campus - various locations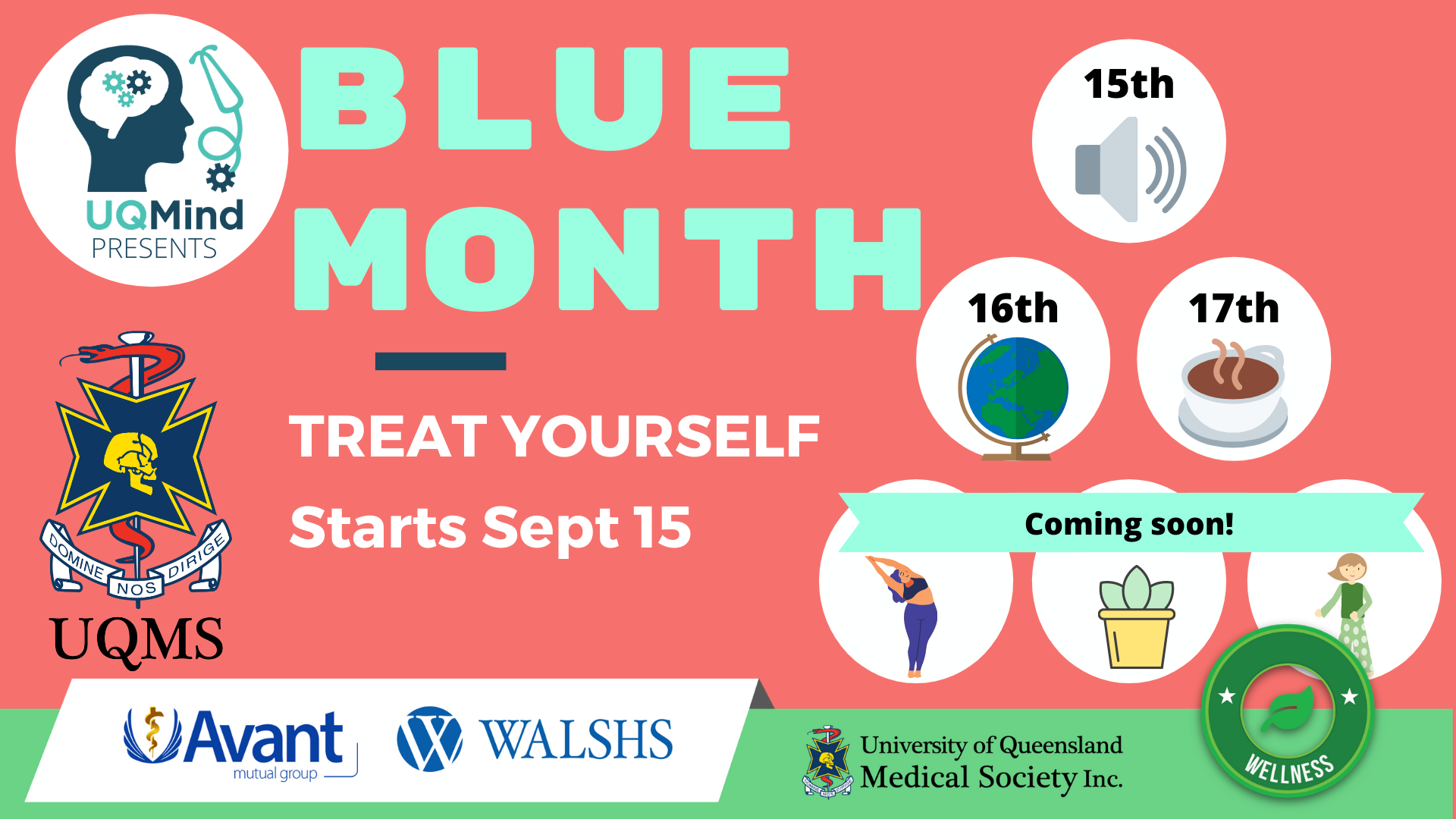 Event Details

Blue Month is back!

Every year, UQMind creates 5 exciting events, with the purpose of helping you destress from uni work, connect with your peers, and discuss mental health.

This year, we're spreading out our competition and events over a whole month! Check out this year's FREE events, all held at different spots around UQ St Lucia campus.

TUESDAY: "Self-Compassion" Symposium
St Lucia Campus, Location TBD, 6pm – 8pm
When does self-criticism get unhealthy? Join us on a discussion of SELF-COMPASSION led by a diverse panel of guest speakers with extensive personal andprofessional background on this topic. This will include:
Dr. Melissa Naidoo – medical executive and advocate for women and diversity in medicine, with a passion for doctors self-care.
Dr. James Kirby – UQ researcher, clinical psychologist, and a world-leader in self-compassion research.
Dr Bryn Belangér – junior doctor, UQ Alum, and avid mental health advocate!

WEDNESDAY "A Taste of Home" Night with the International Student Committee
Holt Room, 6:30-9pm
Calling all internationals who may be feeling a bit homesick — join us for an evening of board games and food from your home country! That's right, we will have FREE food inspired by Canadian, American, Singaporean, Chinese and Indian cuisine! We may not be able to go home this year, but that doesn't mean we can't have a taste of home with our international mates.

THURSDAY: R U OK Morning Tea
Building 69 Level 4, 12pm – 1pm
Grab free cold brew coffee, some tea or a hot choccy while you check in with your mates and ask R U OK? Baked goods will also be available.

We have more events lined up for this month, so please stay tuned for our famous WELLBEING FESTIVAL, GLOWGA with our friends at SWIM and a PJ PARTY with Rainbow Med!

Lastly, keep an eye out for our social media competition later which will have a surprise gift for the winner!
Time

september 15 (Tuesday) - 17 (Thursday)
Location

UQ St Lucia Campus - various locations