21mar6:30 pm8:30 pmOrdinary General Meeting (OGM)6:30 pm - 8:30 pm E.S. Meyers Memorial Lecture TheatreEvent Type :CommunityArm:Ashintosh,Rainbow Med,UQMind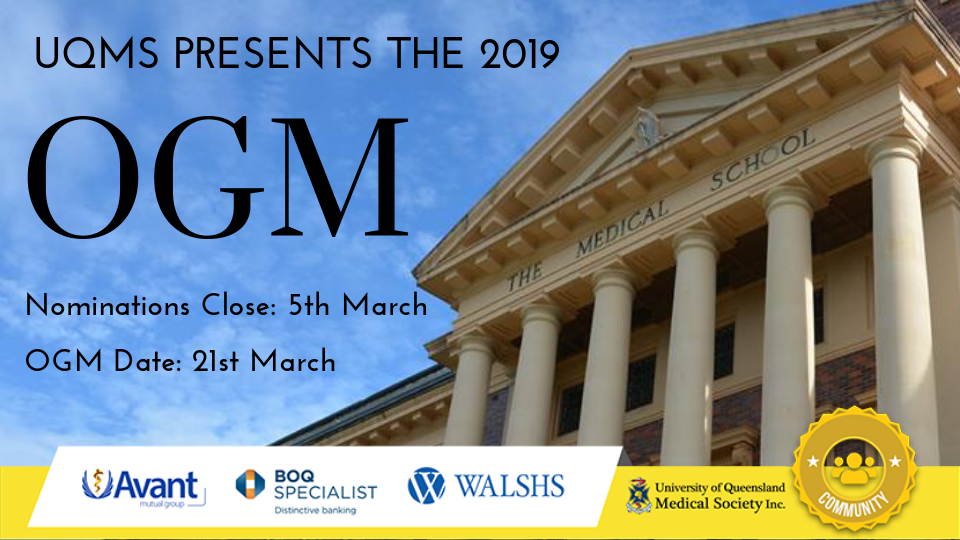 Event Details

FREE NANDOS!!??!! 

It's that time of year again, the Ordinary General Meeting – where OGM Election Results are announced and where you catch up with what UQMS has been up to since the AGM.

On top of the usual fanfare, the 2019 OGM is a special opportunity to  farewell and thank Professor Pearn for all he has done for UQMS as he hands over the reigns of Patron to Dr Jenny Schafer. You can see our full agenda here.

So if you're running for a role, if you are sad to say goodbye to Professor Pearn and excited to welcome to Dr Schafer, or even if you just need a free dinner, we hope to see you at our OGM on Thursday 21st March 2019.

***VOTING HAS OPENED***
All members have been emailed a unique, electronic ballot. If you have not received yours please contact elections@uqms.org to have your say! Or vote in person at the OGM!

***ALL NOMINATIONS HAVE CLOSED***

Positions Open for Nominations from the floor:

Can't attend but still want your voice heard? Fill out the Proxy Form and appoint a friend to be your Proxy at the OGM.
Time

(Thursday) 6:30 pm - 8:30 pm
Location

E.S. Meyers Memorial Lecture Theatre

288 Herston Rd, Herston QLD 4006